Product Description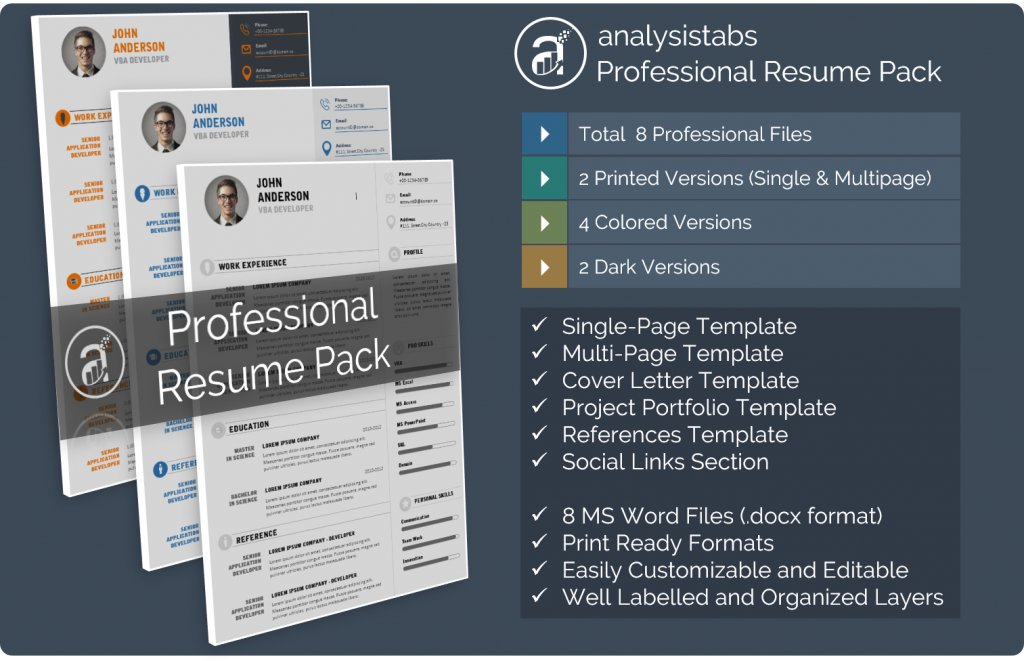 About Analysistabs Professional Resume Templates:
Analysistabs Professional Resume Pack is the perfect way to make the best impression.With the flexible page design, it is easy to use and customize, so you can quickly tailor-make your resume for any opportunity.
With a strong emphasis in professional look and feel, this template will present your information concisely in a layout that is pleasing to the eye and easy to read.
This clean and professional 8 pack resume templates and modern design will highlight your most relevant features to get you noticed and create a consistent voice of your personal brand in all communications.
A Clean Cover Letter included, you can show your professionalism only with a Clean and Sharp Resume.
What is included in the Pack:
> Single-Page Template
> Multi-Page Template
> Cover Letter Template
> Project Portfolio Template
> References Template
> Social Links Section
>Total 8 MS Word Files (.docx format)
> Print Ready Formats
> Easily Customizable and Editable
> Well Labelled and Organized Layers
> 2 Printed Versions (Single & Multi-page)
> 4 Colored Versions (Single & Multi-page)
> 2 Dark Versions (Single & Multi-page)
FAQs:
Q. how to change Photo?
Ans: You can replace the image with 'Change Picture' Option in MS Word Options (in the Format Menu)
Or, you can right click on the Image and choose "Change Picture…" command.