Professional VBA developer designed, coded, tested and completed from start to finish.
World-class VBA Project developed by an Excel VBA expert for VBA Professionals, create modern, professional and easy to use VBA Applications.
Total Lines of Statements
We are providing complete access to workbook and VBA Project Source Code. It helps you to explore the functionality by debugging the Code.
We are expertise in Excel and VBA,  real-time project is created to inspire you to develop professional and world-class VBA Applications.
Our Designs are unique and will provide you easy to use user interface. You can get motived form our clean and professional looking Applications.
We have provide clear instructions/ comments on each section of the procedure to help you to quickly understanding of the VBA Code Statements.
Creative Help Desk Management Application to Manage Tickets, Complaints, Changes and Tasks. An end to end Excel VBA Project vreated from scratch, you will get the Excel Workbook with complete source code to Explore the Project and VBA Project Source Code to build Professional Applications.
Help Desk Management System – Preview Video
Here is the demo video of The Help Desk Management – Realtime VBA Project. You can quickly find the features and functionality of the Excel VBA Application.
Exclusively Built for VBA Professionals
Our main objective of these VBA Projects is to help the VBA Professionals to create more Creative, Professional and World-class Automation Tools and VBA Based Applications.
Easy to explore and understandable VBA Project with full Source Code, will make motivate you build more amazing applications. You can have a look and find the design and codes we have created to function this tool. It is easy to trace the code and get the techniques which we implemented to create this Professional VBA Application.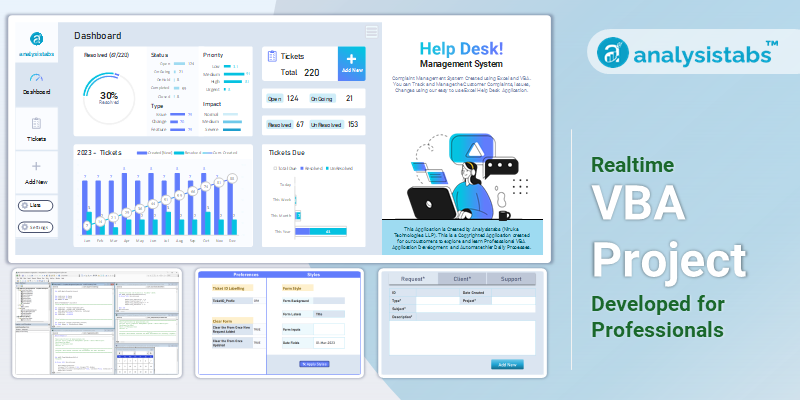 Frequently Asked Questions and Answers!
Owing to the fact that the item you are purchasing is a digital product, you take ownership once delivery or download has been made, and we cannot give refunds or exchanges due to a change of mind.
If you have technical issues with the product, or you can't download the files, kindly contact us and we will be available to help.
Trusted by 6,500+ users worldwide
Project Managers from the biggest brands in the world choose us for managing their Projects, Tasks and Resources.

Help Desk Management System – VBA Project with Source Code
Help Desk Management System is an Excel VBA Project with Full Source Code, realtime VBA Project to Manage Help desk Tickets. Explore the Code and Professional VBA Applications.



Realtime VBA Project

Full VBA Source Code

Well commented Code