Most Powerful Excel Project Management Template on the Market
Analysistabs Project Management Templates is our most Popular and #1 selling template for more than 3 years, making it the most trusted and complete Excel Project and Portfolio Management Template on the market.  Powerful options & tools, unlimited designs, unique template options framework and amazing support are the reasons our customers have fallen in love.  We are dedicated to providing you with the best experience possible. Read below to find out why the sky's the limit when using Analysistabs Excel Project Management Template.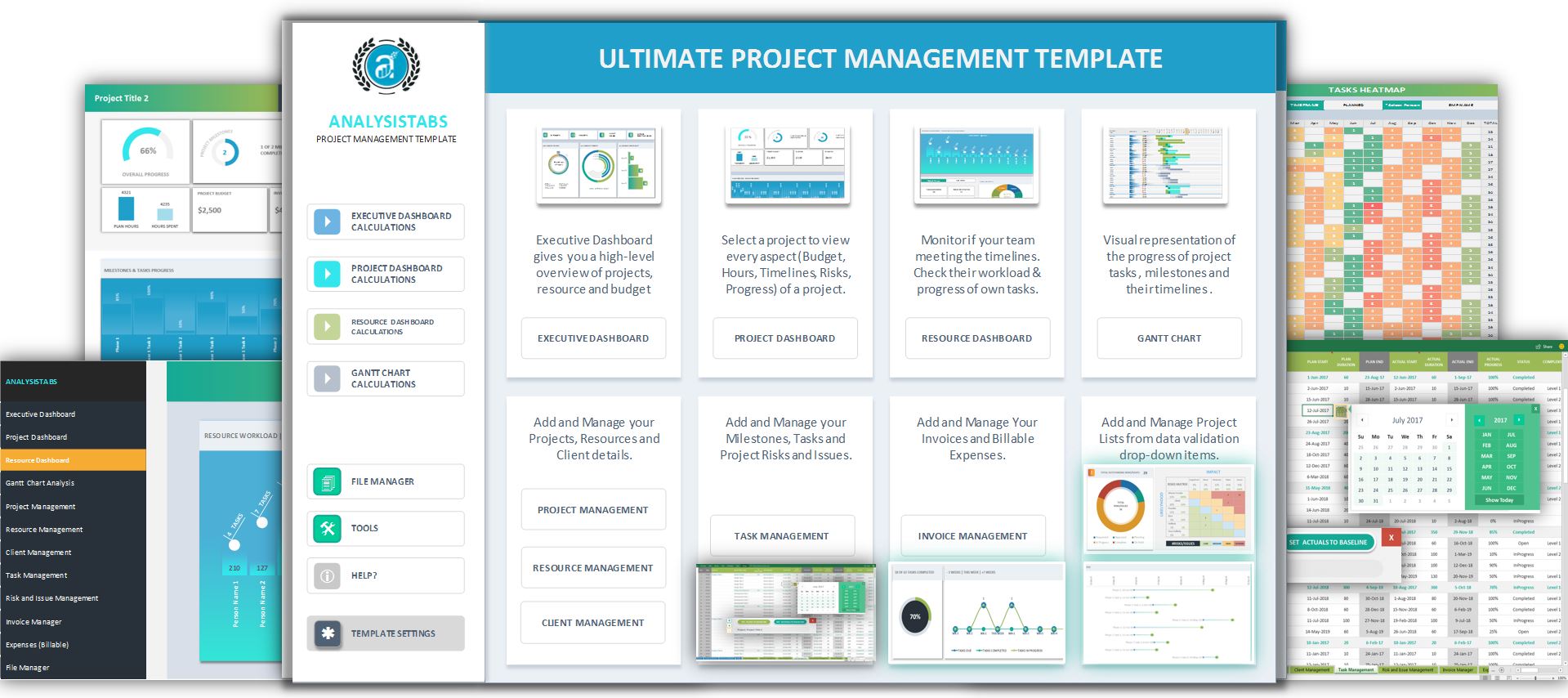 WORLD-CLASS TEMPLATE WITH POWERFUL FEATURES
.
We built and enhanced this template based on our customers across the globe. We took years to reach this state of the template with Dynamic Dashboards, Powerful Gantt Chart, Easy to use data sheets and Template Options.
Dynamic dashboards helps you to understand your Projects and Resource using rich graphical visualizations. Charts and Information will change based on selected Project or Person.  Powerful and Interactive Dashboards for you that you need unique, professional, clean, creative visualizations. All graphics designed using built-in Excel Charts, Shapes and Styles. We have created separate Worksheet for dashboard Calculations, you can unhide the sheets and change the formulas if required. You can add your own Charts and other visual graphics to the sheets if required.
And Many More Advanced Gantt Options
PROFESSIONAL AND EASY TO USE DATA SHEETS
.
Easy to use and update Data Entry Tables created in separate worksheets. You can add new items and update in the respective sheet. All the dashboards and Gantt chart will update automatically based on changes made in the data sheet. There are 9 data sheets included in this template for entering and managing your data.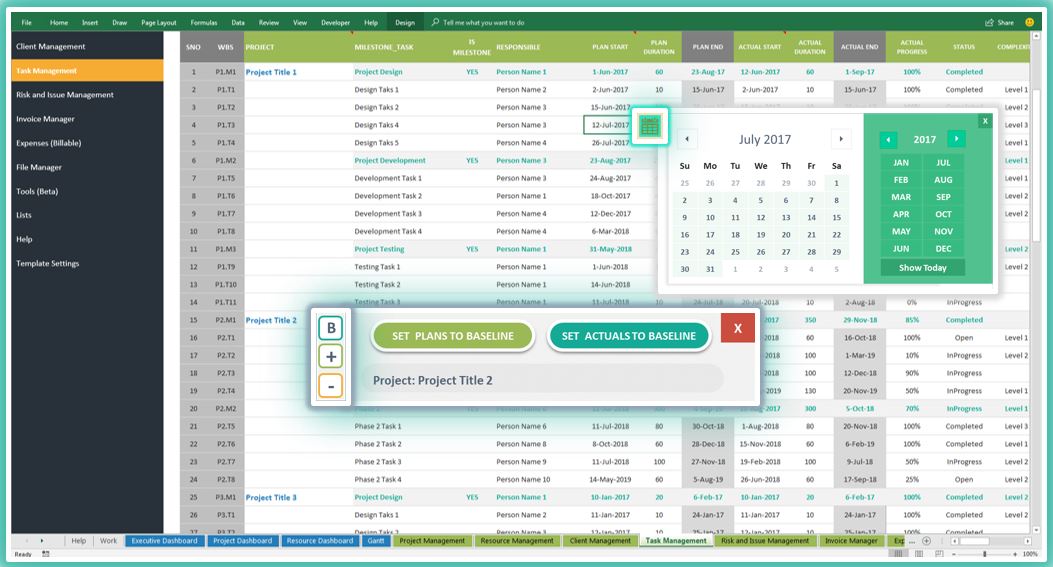 Professional Data Sheets:
Analysistabs does not limit you to one setup, we prefer to give you options. Customize almost every part of the template using our Template Options Area. You can Modify the Logo, Color Styles, Menu Labels, Colors; we let you decide. You can change the look and styles of the template with a button click. We have provided verity of the options to customize the templates to suite your needs.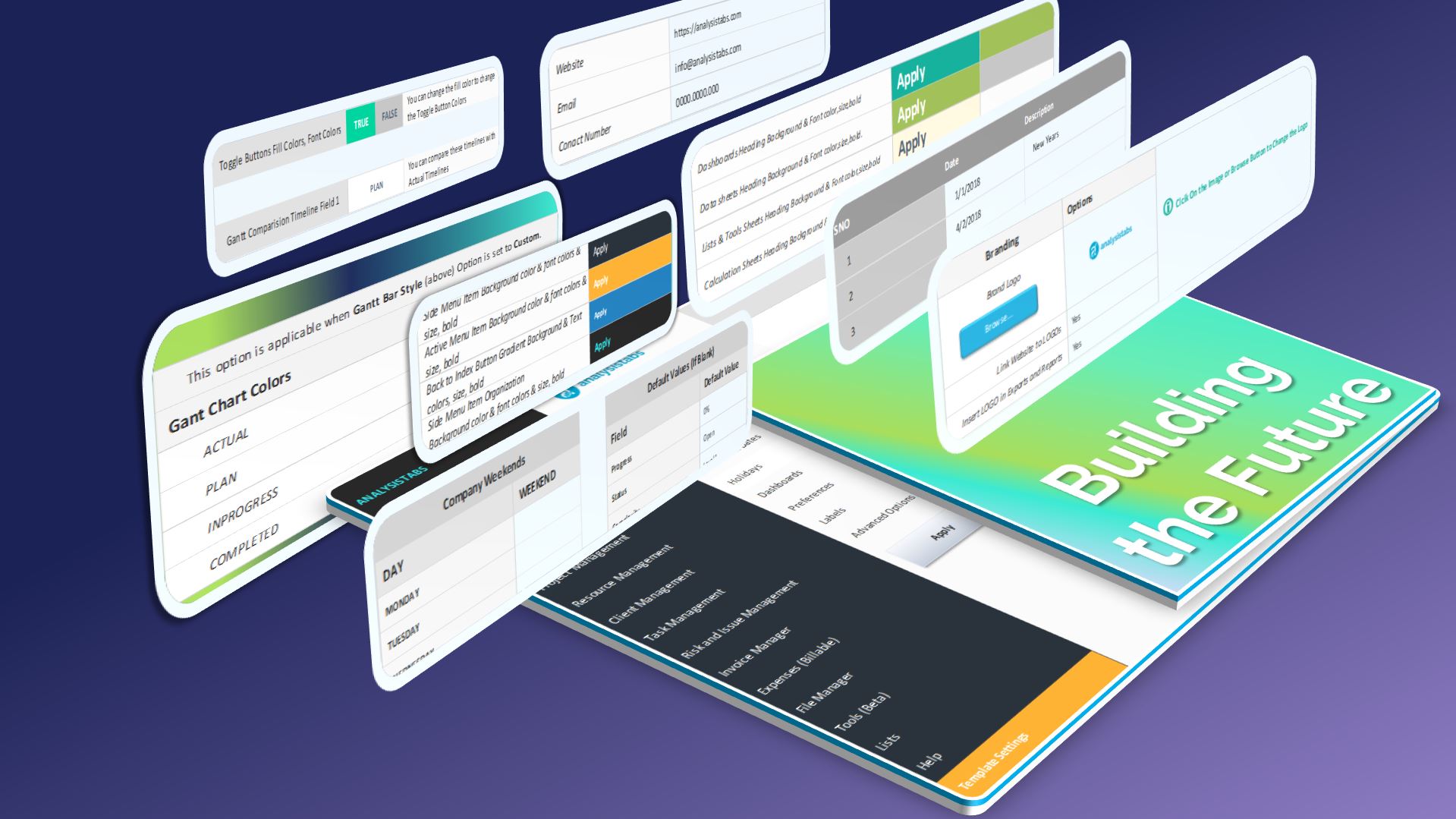 Take Control of Your Template. Yeah, There's An Option For That.
Provided a separate Template Settings worksheet with set of features, options and tools make it the most versatile template on the market by allowing you to take control of virtually every aspect and section of the template.  The powerful customization options & features give you flexibility to create the template you want.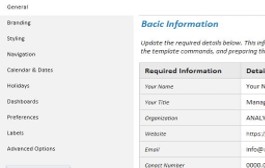 GENERAL OPTIONS
You can enter Name, Title, Contact Number, Email, Company Name, Company Website and Company Address.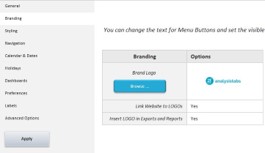 BRANDING OPTIONS
You can select LOGO of your company and choose your preferences to use the LOGO.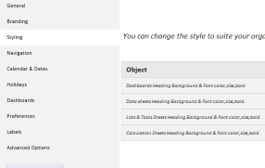 STYLING OPTIONS
You can change the look and feel of your template using verity of the styling options provided. Headers, Gantt Chart Bar Colors and Font Colors, Size, etc.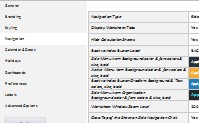 NAVIGATION SETTINGS
You can choose the Navigation type and change the colors of the Side Navigation Buttons. You can also change the left menu labels.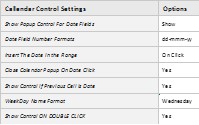 CALENDAR AND DATE
Control the calendar popup control. you can choose when to appear or completely disable the date picker.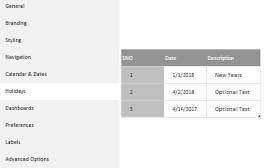 COMPANY HOLIDAYS
You can specify the list of company holidays, this will be ignored in the project schedules calculations.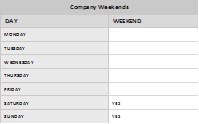 COMPANY WEEKENDS
You can set company working days and weekends. You can set this by leave blank for working days and selecting YES option for weekends.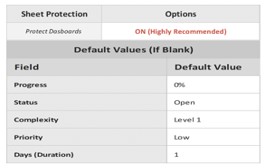 WORKSHEET PROTECTION
Translate Avada into any language, or use one of our dozen included language files.  Avada is also fully RTL compatible.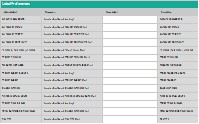 LABEL PREFERENCES
Label preferences helps you to change the Charts and other labels with out touching the objects. You can use this to translate to suit your company.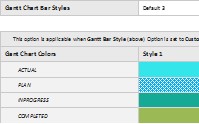 GANTT STYLES
You can change the colors of Gantt Chart Bars with one button click. You can choose 10 ready to use color themes or set your own colors.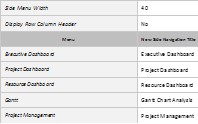 SIDE NAVIGATION
Options provided to change the width and  styles of the Left Side Menu. You can also edit and change the labels of the Side Navigation Menu.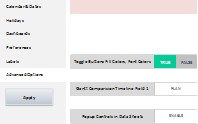 ADVANCED SETTINGS
Many advanced settings provided to protect dashboards, hiding the calculation sheets, sheet tabs, row column headings, zoom level,etc.
More Noteworthy Additions | Requested Features
We didn't stop there. Here are some more awesome additions to our Advanced Template. A quick reminder that updates to our Advanced Templates are completely free (for one year from date of purchase) to anybody who makes the one time purchase. With every single update we release, we try to accommodate specific user requests where we can. Given the scope of the work that goes into every teeny tiny, or huge update, sometimes this can be a challenge, however we strive to give you what you want, when you need it.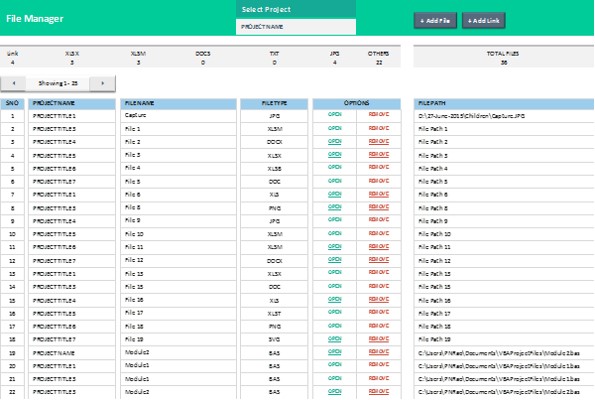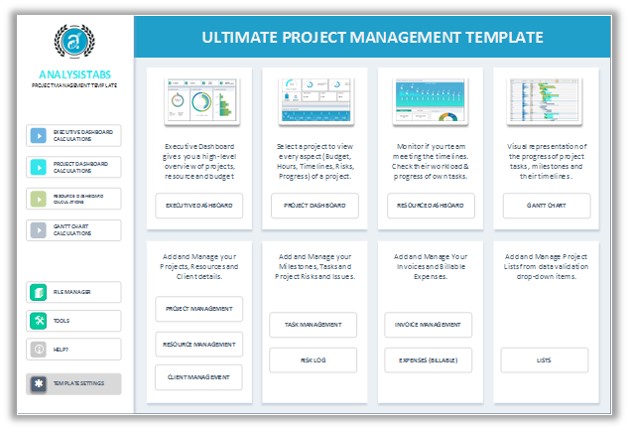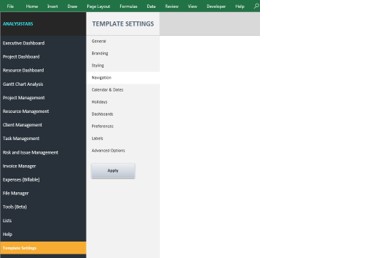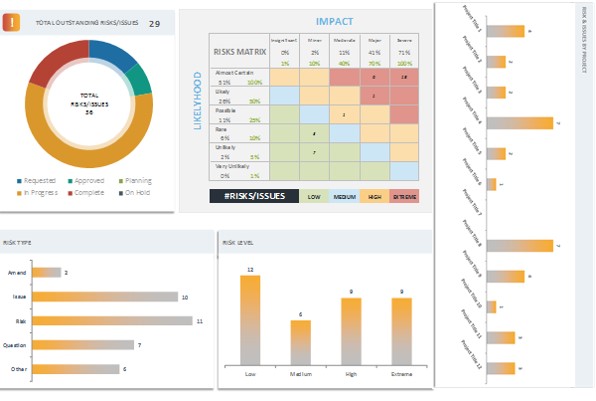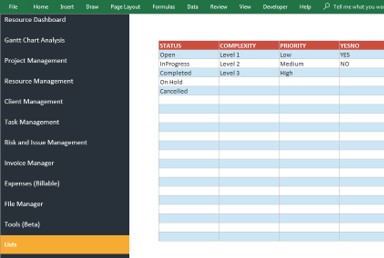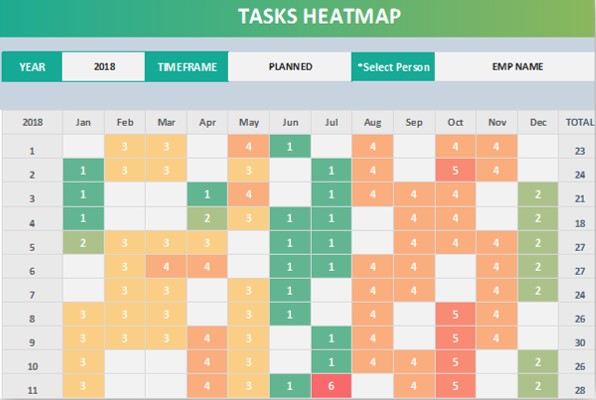 Those Are Just A Few Main Features, There Are Plenty More
Our Advanced Project Management Excel Template gives you the ability to plan your tasks and resource Smarter and Faster. The professionally designed template and utilities shown below were entirely from Analysistabs, included options and require no custom coding. You can easily change the design to suit your needs. Enter your plans in the Data Sheet and analyse you Projects, Resource and Tasks using Dashboard and Powerful Section of the template.
Full List of Incredible Features, Additions:
Projects

Clients

Budget

All Tasks/Milestones by status

All Tasks/Milestones by priority

All Tasks/Milestones by complexity

Overall Progress of Tasks/Milestones

Due, Completed, Progress in – 3 to +7 WEEKS

Project Timelines

Resource Workload

Project Budget, Invoiced,Remaining

Billable Expenses

Planned Vs Actual Hours

Risk Matrix

Option to adjust the %figures

Outstanding Risks/Issues

Risks by Status

Risks by Risk Type

Risks by Risk Level

Risks & Issues by Project
Overall Project Progress

Option to change Projects

Tasks/Milestones Completed vs Pending

Hours Planned and Hours Spent

Project Budget,Invoiced and Remaining

%Progress of Project Tasks and Milestone

Project Timeline

#Tasks by %Progress

Tasks & Risks by Responsible Person

Total Outstanding Risks/Issues

Project Risks by Type & Level

Tasks Due/Starts This Week

Tasks Due/Starts Next Week

Tasks Due/Starts This Month

Tasks Due/Starts Next Month

Tasks Due/Starts This Year

Tasks Due/Starts Next Year

Tasks Due/Starts by Status

Tasks Due/Starts by Priority

Tasks Due/Starts by Complexity
Resource Workload – Total Tasks

Resource Workload – Plan Hours

Option to Select Resource Name

Tasks Completed by Person

Due This Month, Due Next Month

Due This Year, Due Next Year

Due | Completed | In Progress in -3 to +7 weeks

Tasks & Milestone HeatMaps

Option to Toggle Tasks & Milestones

Option to Change Timeframe

Option to Toggle Tasks/Hours

HeatMap for specific Year

HeatMap for specific Person

HeatMap for Planned Tasks

HeatMap for Actual Tasks

HeatMap for Planned Hours

HeatMap for Actual Hours
Project Name

Responsible Person

Status

Complexity

Priority

FLAG
Daily

Weekly

Monthly

Quarterly

Yearly
Planned Timelines

Actual Timelines

Planned VS Actuals

Planned Progress

Actual Progress

Baseline Timelines

Baseline VS Actuals

Baseline Progress
Your Name

Your Title

Organization

Website

Email

Contact Number

Address
Brand Logo

Link Website to LOGOs

Insert LOGO in Exports and Reports
Company Holidays , Weekends & Calendar
Show Popup Control For Date Fields

Date Field Number Formats

Insert The Date in the Range

Close Calendar Popup On Date Click

Show Control if Previous Cell is Date

WeekDay Name Format

Show Control ON DOUBLE CLICK

Options to Set Weekends & Working days
Dashboards Heading Background & Font color,size,bold

Data sheets Heading Background & Font color,size,bold.

Lists & Tools Sheets Heading Background & Font color,size,bold

Calculation Sheets Heading Background & Font color,size,bold

Export Dashboards Heading Background & Font color,size,bold
Gantt Chart Bar Styles

Custom Color ACTUAL

Custom Color PLAN

Custom Color INPROGRESS

Custom Color COMPLETED

Gantt Project Labels Font Color, Size, Bold,Italic
Display Worksheet Tabs

Hide Calculation Sheets

Background color & font colors & size, bold"

Worksheet Window Zoom Level

Display Row Column Header
Navigation Type: Index/Side Menu

Back to Index Button Label

Side Menu Item Background color & font colors & size, bold

Active Menu Item Background color & font colors & size, bold

Back to Index Button Gradient Background & Text colors, size, bold

Side Menu Item Organization

Background color & font colors & size, bold"

Go to Top of the Sheet on Side Navigation Click

Side Menu Width

New Side Navigation Title

Option to choose Gantt color theme

Option to set Gradient Colors
Protect Dashboards

Default Values

Bulk Chart Titles Editing

Toggle Buttons Fill Colors, Font Colors

Gantt Comparison Timeline Field 1

Toggle Popup Controls in Data Sheets

Aggregate Projects Based on Tasks/Milestones
Click on button to view List of All Data Fields in the Management Sheets. We have provided most possible fields required in a common project management activities. You can add additional fields to the right side of the last column of the data tables.
User Reviews: We Love our Users, And They Love Us.
We are fully dedicated to user base. When you buy Analysistabs tools and templates, there is no need to worry about customer support. With over 1000 users and counting, you cannot go wrong with Analysistabs. Check out what our users are saying about Analysistabs!
"WOW! when I open your templates first time, I don't really know what to say, awesome tools. These are the best tools I have ever seen. I am a senior project manager and these templates are very useful to manage my teams very effectively. I wanted to thank you for all your hard work. And I am really looking forward to see more innovative tools like these! Thank you so much for these templates and tools, AMAZING!"
"The Analysistabs developers team provides excellent support, listens to their users & continually works to improve their products."
Thomas
Project Manager, USA.
"Excellent quality and easy to customize. Thanks!"
Carmel
Manager, Australia.
"Thank you very much for your great support & quick response, I really appreciate it. You are the best!"
"Great job in developing such a powerful templates and continuous updates. I really love the templates – Excellent!"
"If you ever start working with Analysistabs Premium Templates. You won't Stop Using it…Its just the right Project Management Templates Package for your Project Management & Business Presentations!"
"I bought these templates and I would like to recommend it to every one who wants manage their projects effectively. It is very easy to use and the customer service is very reactive. "Bravo" for this work and great support!"
"It's the best Project Management Template, and It looks great by the way and I like it better than ! "
ULTIMATE EXCEL PROJECT MANAGEMENT TEMPLATE – ADVANCED
.
Ultimate Excel Project Management Template is created to simplify the Project Management, Resource Management, Client Management, Milestones & Task Management and Invoice Management. We keep working on the template and release the updated templates by adding more features. You can freely download the latest and updated templates up to one year from date of purchase.
Instant Download – You can download the file upon successful payment.

Never Expires – Download and Works Forever!

Ready to Print – We set the page layout preferences.

No EXEs No Additional S/W Required. Just Need Microsoft Office/Excel!

Clean & Creative – unique design inspires you.
Join The 3,000+ Satisfied Project Management Templates Users!
ON SALE 50% OFF
LIMITED TIME OFFER
Please Note:  Ultimate Excel Project Management Template – Advanced Version is created using Excel and VBA,  we reserve the right to protect our source codes, no access will be given to open our code modules. We are providing the full access to worksheets!
Trusted by 6,500+ users worldwide
Project Managers from the biggest brands in the world choose us for managing their Projects, Tasks and Resources.